Finding your wedding dress can be overwhelming, frustrating and partly disheartening. All the different styles princess, one shoulder, halter neck, a-line, the list goes on. You're either likely to be fully ecstatic about "finding the one" or feel a bit nervous. Either way, here's some tips to help you understand what to expect and more importantly how to get what you truly want when shopping for your dress.
What to expect when shopping for you dress?
Ultimately, you want to feel comfortable on your wedding day, its a long day & being in a scratchy, uncomfortable dress isn't ideal. Don't feel like you have to wear something strapless if you aren't comfortable with that style of gown, equally don't feel like you have to wear something long with a high neck & sleeves. You do you & incorporate your own style.. With that in mind, here's some tips to possibly consider whilst shopping for your dress.
Budget – Work out your budget before starting to look at dresses & try to stick to it when you're shopping for what you want. Make your entourage aware of your budget before arriving at any boutique so that they can only pick out dresses that you are comfortable with the price of. Don't be shy, make sure your boutique assistant is aware of your budget so that they can point out which dresses you should be looking at.
Underwear – It is vitally important to have the right undies on for your wedding outfit. You want to be completely comfortable and having underwear that fit is key to that.
The right white for you – Consider your skin tone. Is white the best colour for your complexion? Ivory may suit you better.. or pink or blush?
Your shoes – There aren't rules when it comes to choosing your shoes, but do chose wisely.. Maybe you've always dreamt of a pair of Jimmy Choo's or maybe you're well aware that walking down the aisle in a pair of heels without tripping is what you're dreading the most. If your converse or your crocs are your GoTo's, then why not?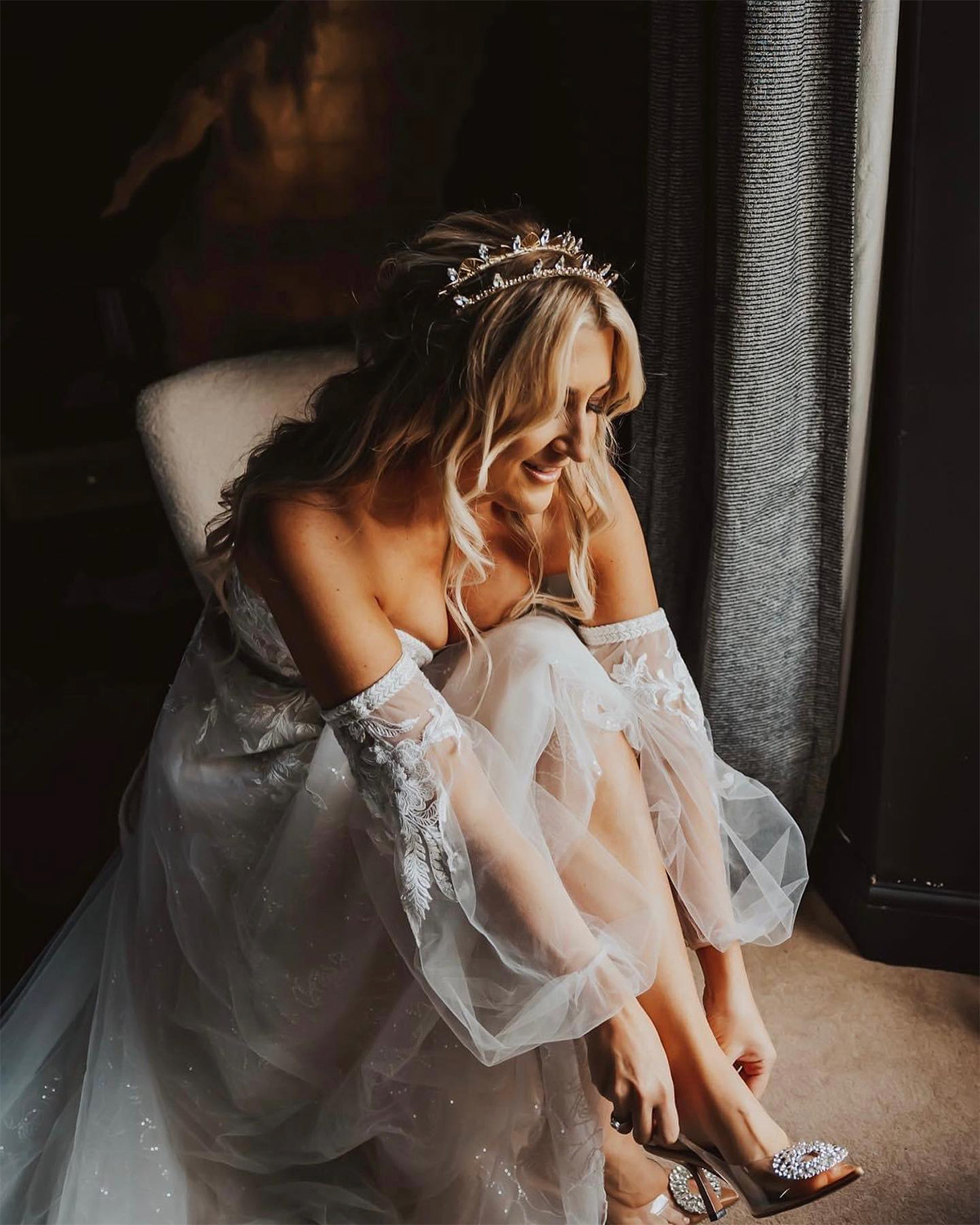 Who should you take wedding dress shopping?
You can be picky when choosing who to take dress shopping with you, after all, who's opinions do you trust the most? You want honesty from your entourage but also don't want someone who might bring a downer on the experience. If you're struggling to decide who to take or nervous, perhaps consider going by yourself. That might sound daft to most but the most important thing about your wedding outfit is that you love it and you feel great. 
Ladies, listen up. There is no better feeling that slipping a dress on and knowing "this is the one". I know it's been said before but I promise you, when you put the one on, you'll know.